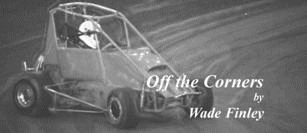 Welcome to the inaugural of "Off the Corners". With this column I will attempt to bring the latest news involving Micro-Sprints, Mini-Sprints and occasionally the Focus midgets. I have several interviews setup with owners, drivers and promoters. As I travel in MO, TX, and OK I will also bring news from various tracks. Look for an in depth interview to be posted soon with Aaron Lemmons, the new owner of Port City . Personally, I am very glad to see Aaron take over Port City .
With the Christmas holiday over and hopefully the flu season behind me, I will try to keep this column updated quicker. If you are a racefan, YOU have got to be excited about the upcoming 2 weeks. Expo Square already has trailers waiting to get inside for the Shootout. While our visitors are in T-Town, everyone please extend them a warm welcome. I have several additional interviews at the Shootout and over the next few weeks. The interviews should prove to be very interesting. In the coming weeks I'll be talking with one of the pioneers of Micro racing in Oklahoma ; also one of the premier chassis builders, along with one or more drivers. I want to thank each of them in advance for their time. The Micro racing community on the whole is such a great group.
Once again the Chili Bowl looks like a Who's Who of Racing. Controversy has reared its head on the largest forum for Midgets (http://www.midgetmadness.com) concerning the Chili Bowl, Focus Midgets and USAC in general. The largest discussion seems to cover the Focus Midgets, especially whether they are good for the sport of Midget racing. As everyone knows I have my opinions concerning the Focus cars. Not concerning whether they are good for racing, but more about their costs. I am trying to gather more info on the Focus cars and will attempt to include it in a future column. Until Sunday after the Shootout, please remember to welcome our visitors.